DANNY'S CAFE.COM and MORGANA'S CHAMBER Present...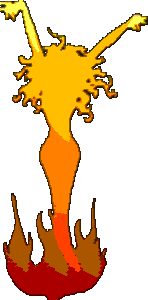 Thursday 31 October 8 PM
at Danny's Cafe.Com
143 Main Street, Ossining, NY
914-923-CAFE
Don't miss out on Westchester's ONLY Witches Ball...
Come in Costume and Enjoy Great Food and Great People!

Samhain Ritual with Morgana and friends in the Market Square at 10 PM (across the street from Danny's.)
On this night when the veil between the worlds is thinnest, we gather to honour those who have gone before us.


Music by: Mike Risko, Miriam Baily and Friends


$15 In Advance Until 30 October -- Includes Frightfully Scrumptious Buffet! It's magickally delicious...
$17 At the Door
OR
$15 with a Canned Good for our Harvest Food Drive (To be distributed to the Ossining Food Pantry -- let's show 'em how generous Witches are!) OR a Pet Toy to be distributed to the Central Westchester Humane Society.
PRIZES For the best costume, scariest costume and silliest costume! DOORPRIZES too!!!

Easily accessible by Metro North! (In case your broom is in the shop...) Click here for Metro North Train schedules (Hudson Line, Ossining Train Station.) If you need other directions, please feel free to email us.
Call Danny's Cafe.Com at: 914.923.2233 for tickets TODAY! Check out their website at: www.dannyscafe.com
New! Keep up to date on classes and events.
Sign up for our email list directly!


Click to subscribe to MorganasChamberSchedule

This logo is copyright 1996 Morgana's Chamber, Inc.
This page was designed by Morgana SidheRaven ©2001
All contents of this website are ©2000 Morgana's Chamber, Inc. No part of this website may be reproduced in any form without the express permission of the author and Morgana's Chamber, Inc.