"A Cauldron of Transformation!"
Morgana's Chamber is happy to present the appearance of Stacey Demarco!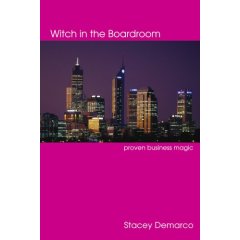 The Secrets of Modern Witchcraft;

Ever wonder how you can seamlessly weave your Pagan or Witch beliefs throughout your everyday life, making each day more magical than the next? Confused at how to connect your spirituality with your material needs and desires? Do you want easy proven techniques to increase your self trust, self esteem, self care and self respect? Do you find it difficult to apply some of the ancient core laws of Witchcraft to your modern existence?

If you have answered yes to some or any of the questions above, this workshop is for you.

Discover how you can make your life richer, happier and more connected from the moment you wake until you rest that sleepy head at night. Join Stacey Demarco, Australian business woman, Witch and Author of "Witch in the Boardroom" for this practical talk/workshop where you will:

• Learn the importance of purpose and intention.
• Get practical about the importance of creating personal power from the inside out the Witches Way.
• Learn the difference between Magical Thinking and Thinking Magically and how this can make a big difference in your magic.
• Create a Power Circle: the unbeatable way to bring more empowerment and confidence into every situation
• Discover techniques that bring the Goddess and her attributes into your workplace without being overt.
• Gain tips to create modern spells that really work quickly and easily, anywhere and anytime.

Notes will be provided and magical supplies available at Morganas. This workshop is suitable for experienced practitioners and those new to the Craft.

Stacey Laing-DeMarco is a native of Sydney, Australia, born of Celtic and Native American ancestry.
Thirteen years ago during an successful career in the corporate world she began to realize that there was an emptiness and lack of purpose that could not be filled externally.
After deciding to fully study Wicca, (the fastest growing spiritual practice on several continents), Ms. Laing-DeMarco was initiated as a 'solitary' Witch over 13 years ago.
Known for her very grounded style of practical magic she now
combines a successful career in corporate Australia with her
vocation of teaching Witchcraft in Australia and the United Kingdom.
Her most recent accomplishment is the completion of her first book, "Theres a Witch in the Boardroom - Proven Business Magic"
Ms. Laing-DeMarco lives on Sydney's Northern beaches by the sea, with her husband and furry animal companions. She has appeared on radio and television and has been interviewed on Pagan issues by Australian newspapers.
Stacey's special interests include:
:: The Way of the Witch & Business
:: Women's Empowerment
:: Goddess as Oracle
:: Wicca as Self-help
:: Adventure Travel
:: Horse Riding
You can visit her website at: www.themodernwitch.com
---
New! Keep up to date on classes and events.
Sign up for our email list directly!

Click to subscribe to MorganasChamberSchedule
---


Morgana's Chamber
242 West 10th Street
(Between Hudson and Bleecker)
NY, NY 10014
212.243.3415

We are conveniently located in Greenwich Village. Just steps from the M8 bus, the 1 or 9 train, Christopher Street station and the NJ Path Train, Christopher Street station. If you would like further directions, go to our "Directions" page, or call the shop during business hours.

Hours:
Tuesday - Friday, 2 PM - 8 PM
Saturday, 1 PM - 8 PM
Sunday, 1 PM - 6 PM
Closed Mondays
---
Home What's New? About FAQ's Schedule Products Spell Consultations Custom Blends Readings Book Club Links Reiki Healing Spell Stitchers Directions Email
This logo is copyright 1996 Morgana's Chamber, Inc.
This site was designed by Morgana SidheRaven ©2000, ©2004
Banner at top of the page is courtesy of GRSites.
All contents of this website are ©2000 Morgana's Chamber, Inc. No part of this website may be reproduced in any form without the express permission of the author and Morgana's Chamber, Inc. We take care to use graphics that are considered public domain (with the exception of our logo which is © 1996 and may not be used for any purpose without our permission.) Please let us know if we have used a graphic you have created without your permission, we will rectify the problem immediately.
IMPORTANT NOTICE: Morgana's Chamber, Inc. does NOT advocate or recommend any of the sites listed at the top or bottom of the page! If you would like recommendations, please be sure to check our "Links" page, or email Morgana with questions.