Samhain Dumb Supper with author
Judika Illes
at Morgana's Chamber!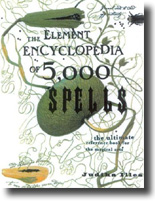 "The Element Encyclopedia of 5000 Spells" Book Signing with author Judika Illes, Followed by "Dumb Supper" Ritual! Wednesday 27 October!
During the Samhain season, the veil between the worlds is very thin, making contact with our beloved deceased friends and relatives very easy. The "Dumb Supper" is a ritual performed traditionally at Halloween during which spirits are invited to attend a feast specially prepared featuring their favourite foods. We will be performing a modified version of this ritual to kick off the Samhain season. This is a FREE event! (Donations gratefully accepted, but never required.)
Judika Illes will be signing copies of her latest book "The Element Enyclopedia of 5000 Spells" from 5:30pm until the ritual begins. SPECIAL: With every purchase of "The Element Encyclopedia of Spells" get a FREE Halloween Goodie Bag filled with the ingredients to do a "Halloween Luck Spell" (found in the book), and a bonus charm that was not included in the book! Please pre-order your copies of this book-- each book weighs 5 lbs (!) and we will only be ordering a few extra copies because it is so heavy to ship. You do not need to attend the Dumb Supper in order to have your book autographed by Judika, and can still take advantage of the book club and gift with purchase specials. If you are not pre-ordered, chances are you will not get a copy of this amazing, indispensible reference book! Pre-orders accepted until 20 October, so order SOON! All pre-orders must be paid in full. Book club members special: TRIPLE Book Club points on all pre-orders! Book price: $27.50, hardcover. "Since the dawn of history, the goal of magic has always been an improved quality of life. This authoritative and comprehensive collection lists five thousand spells spanning 5,000 years of magical history from Earth's every corner. Discover binding spells and banishing spells, spells for love, luck, wealth, power, divination, summoning, spiritual protection, physical healing, contact with spirits, enhanced fertility, and much more. It's an essential reference for anyone interested in folklore, mythology, magic - or self-improvement." To find out more about Judika, check out her website at: http://www.judikailles.com
If you would like to attend, you must make reservations in advance-- if you aren't on our reservation list, you will not be allowed to attend. Reservations will be taken up until 6pm on Wednesday, 27 October.
The following is required for each attendee: Please bring a small offering of something edible for your invited "guest" (spirit). Keep in mind what your invited guest would most like-- what would entice them to make the visit from the spirit realm? Remember: A "Dumb Supper" is carried out in complete silence. No speaking will be allowed other than that of Morgana and Judika who will be directing the ritual. During the invitation and feasting portion of the ritual, even they will be silent. You will be asked in advance to please turn off all beepers, mobile phones, any electronic device that may go off and become a distraction during the ritual.
Ritual begins promptly at 7pm, when the gate will be shut and the front door locked. No one will be admitted after 7pm, no exceptions. If the gate is shut, please be considerate and do not attempt to gain admittance-- a Dumb Supper relies on silence and focus to set a mood condusive to spirit appearance. If you would like your book autographed by Judika, please come before the ritual. We will close shortly after the ritual for a private fuction.
---
New! Keep up to date on classes and events.
Sign up for our email list directly!

Click to subscribe to MorganasChamberSchedule
---


Morgana's Chamber
242 West 10th Street
(Between Hudson and Bleecker)
NY, NY 10014
212.243.3415

We are conveniently located in Greenwich Village. Just steps from the M8 bus, the 1 or 9 train, Christopher Street station and the NJ Path Train, Christopher Street station. If you would like further directions, go to our "Directions" page, or call the shop during business hours.

Hours:
Tuesday - Friday, 2 PM - 8 PM
Saturday, 1 PM - 8 PM
Sunday, 1 PM - 6 PM
Closed Mondays
---
Home What's New? About FAQ's Schedule Products Spell Consultations Custom Blends Readings Book Club Links Reiki Healing Spell Stitchers Directions Email
This logo is copyright 1996 Morgana's Chamber, Inc.
This site was designed by Morgana SidheRaven ©2000, ©2004
Banner at top of the page is courtesy of GRSites.
All contents of this website are ©2000 Morgana's Chamber, Inc. No part of this website may be reproduced in any form without the express permission of the author and Morgana's Chamber, Inc. We take care to use graphics that are considered public domain (with the exception of our logo which is © 1996 and may not be used for any purpose without our permission.) Please let us know if we have used a graphic you have created without your permission, we will rectify the problem immediately.
IMPORTANT NOTICE: Morgana's Chamber, Inc. does NOT advocate or recommend any of the sites listed at the top or bottom of the page! If you would like recommendations, please be sure to check our "Links" page, or email Morgana with questions.