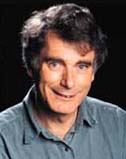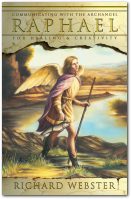 Morgana's Chamber presents Richard Webster!
Join us in welcoming author Richard Webster on his 2005 Tour, in his only NYC appearance!
June 7, 2005 at 7:30 PM
Angels are God's messengers, and act as intermediaries between God and humans. Most people have heard of archangels, but few people know much about them, or their role in helping humanity. This is surprising as Michael, Gabriel, Raphael and Uriel are some of the best-known angels. Richard Webster's presentation will answer many of your questions about the angelic kingdom, and archangels in particular. His talk includes a brief history of angels and their relevance today. He will tell you who Michael, Gabriel, Raphael and Uriel are, what they do, and how they can help you achieve your goals. Richard will also teach a variety of simple techniques that will enable you to invite the archangels into your life. Richard will be signing copies of his Angels books directly following the workshop.
For more information call the shop at: 212-243-3415.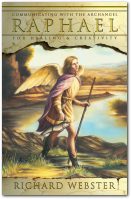 A social worker finds sudden relief from a mysterious illness. A confused student discovers her true passion. A guilt-ridden widow reconnects with her daughter. These and other true stories, recounted by Richard Webster in Raphael, demonstrate the positive, healing impact this wise and benevolent archangel has had on countless lives.
Whether your pain is physical or emotional, the archangel Raphael - also known as the Divine Physician - can help. This book offers meditations, rituals, visualizations, amulets, and other practical techniques for contacting the "guardian angel of all humanity." Raphael can assist with health problems, finding lost or stolen items, recovering from emotional trauma, travel, spiritual guidance, and learning. $10.95
Michael is considered the greatest angel in the Christian, Judaic, and Islamic traditions. Throughout the ages, he has appeared as a protector, a messenger, a guide, a warrior, and a healer. In Michael, Richard Webster presents a thorough history of this famous archangel and offers simple techniques for contacting him.
Readers are treated to a detailed introduction to Michael and his many appearances. The rest of this practical guide provides a variety of methods for connecting with Michael, petitioning his help, and creating a lasting bond. Through easy-to-perform rituals and meditations-some involving candle magic, crystals, and dreamwork-readers will learn how to get in touch with the Prince of Light for courage, protection, strength, and spiritual guidance. $10.95
---
If you want up to the minute updates of our events and classes, be sure to subscribe to our email list! Just follow the easy instructions below and you will begin receiving the updates as soon they become available.
New! Keep up to date on classes and events.
Sign up for our email list directly!

Click to subscribe to MorganasChamberSchedule
---


Morgana's Chamber
242 West 10th Street
(Between Hudson and Bleecker)
NY, NY 10014
212.243.3415

We are conveniently located in Greenwich Village. Just steps from the M8 bus, the 1 or 9 train, Christopher Street station and the NJ Path Train, Christopher Street station. If you would like further directions, go to our "Directions" page, or call the shop during business hours.

Hours:
Tuesday - Friday, 2 PM - 8 PM
Saturday, 1 PM - 8 PM
Sunday, 1 PM - 6 PM
Closed Mondays
---
Home What's New? About FAQ's Schedule Products Spell Consultations Custom Blends Readings Book Club Links Reiki Healing Spell Stitchers Directions Email
This logo is copyright 1996 Morgana's Chamber, Inc.
This site was designed by Morgana SidheRaven ©2000
All contents of this website are ©2000 Morgana's Chamber, Inc. No part of this website may be reproduced in any form without the express permission of the author and Morgana's Chamber, Inc. We take care to use graphics that are considered public domain (with the exception of our logo which is © 1996 and may not be used for any purpose without our permission.) Please let us know if we have used a graphic you have created without your permission, we will rectify the problem immediately.
IMPORTANT NOTICE: Morgana's Chamber, Inc. does NOT advocate or recommend any of the sites listed at the top or bottom of the page! If you would like recommendations, please be sure to check our "Links" page, or email Morgana with questions.