PSYCHIC TAROT READINGS



What to expect:
Our readers work with Tarot, as a preferred method of reading. Readings are for entertainment purposes only. You have the choice to change your destiny, and by having a reading, you just may have done that! A good reader will give you guidance and show you where there may be potential problems.
Our readers are personally screened by Morgana, and you will never incur other fees (other than if you wish a longer reading or wish to purchase items from the shop.) If one of our readers has been rude, insensitive, or unethical in any way, please contact Morgana via email immediately!
Pricing:
Readings are available by appointment. The price is $45 for a thirty minute reading. Shorter or longer readings may be arranged with the reader in advance, pricing will be appropriate to length of reading.
Payment:
Readings must be paid in cash. We can no longer accept credit card payment for readings, sorry for the inconvenience.
Tipping:
Tips are not required, but if you wish to leave a tip, most readers will be very grateful that you choose to show your appreciation with a tip!

Tarot and Astrology Readings with author Lexa Rosťan!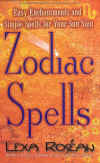 Tarot/ Astrology Readings with author Lexa Rosťan, 2-8 PM. EVERY Wednesday and Friday! Prices as follows: $45 for 15 minute reading, $75 for 30 minute reading. Lexa will be giving Tarot/ Astrology Readings all day, please be sure to call early to book your appointment. A 50% NON-REFUNDABLE deposit is required to secure your space, 24 hours prior to the reading. We can only accept cash for readings, no credit cards.
NEW! Astrology Readings with Lexa Rosťan! Price: $75 for a half hour interpretation of your chart, includes a take-home copy of your chart! Please call the shop to book your reading today!

How to Make an Appointment:
Please call the shop for all appointments, 212.243.3415. We are sorry, but we cannot make appointments via email.



Home What's New? About Morgana's Chamber FAQ's Schedule Products Spell Consultations Custom Blends Book Club Links Reiki Healing Spell Stitchers Survey Results Directions Email


New! Keep up to date on classes and events.
Sign up for our email list directly!


Click to subscribe to MorganasChamberSchedule

Morgana's Chamber
242 West 10th Street
(Between Hudson and Bleecker)
NY, NY 10014
212.243.3415

We are conveniently located in Greenwich Village. Just steps from the M8 bus, the 1 or 9 train, Christopher Street station and the NJ Path Train, Christopher Street station. If you would like further directions, please call the shop during business hours.

Hours:
Tuesday - Friday, 2 PM - 8 PM
Saturday, 1 PM - 8 PM
Sunday, 1 PM - 6 PM
Closed Mondays

This logo is copyright 1996 Morgana's Chamber, Inc.

This site was designed by Morgana SidheRaven ©2000
All contents of this website are ©2000 Morgana's Chamber, Inc. No part of this website may be reproduced in any form without the express permission of the author and Morgana's Chamber, Inc. We take care to use graphics that are considered public domain (with the exception of our logo which is © 1996 and may not be used for any purpose without our permission.) Please let us know if we have used a graphic you have created without your permission, we will rectify the problem immediately.
IMPORTANT NOTICE: Morgana's Chamber, Inc. doe NOT advocate or recommend any of the sites listed below!