"A Cauldron of Transformation!"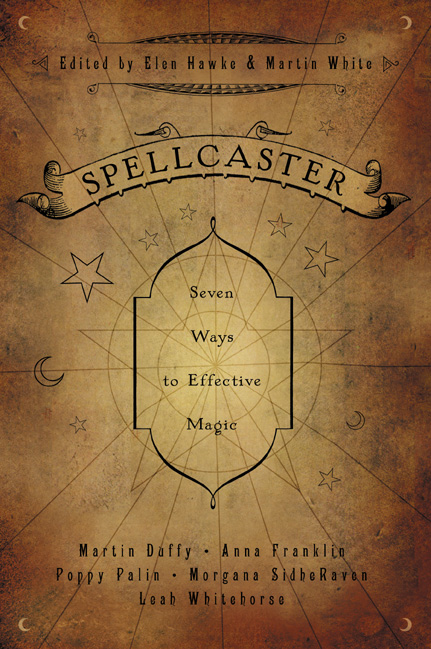 Spellcaster: Seven Ways to Effective Magic
A thrilling collection of magical wisdom.
Seven talented magical practitioners well-versed in their individual tradition and approach to the art have joined together to produce this invaluable guide to the art of spellcrafting. Much more than a do-it-yourself magic manual, the essays within this guide explore how magical energies operate and manifest, with an emphasis on the responsibilities and ethical issues that are part of the magical life.
Spellcaster addresses the theoretical and practical background of magic-exploring how magical energies operate and manifest. The seven essays represent different approaches and traditions-including Wicca, Hermetic Magick, Northern traditions, and freeform Natural Magick. The wisdom within these pages is meant to inspire and empower beginners and less experienced magic users, while offering thought-provoking and compelling commentary to experienced magicians.
Song of the Star by Leah Whitehorse
Nature and Magic by Elen Hawke
What Is Magick? by Martin White
Occult Philosophy and Magic by Martin Duffy
The Eightfold Ways of Magic by Anna Franklin
Wild Enchantments by Poppy Palin
Seeking Magickal Advice by Morgana SidheRaven
Wild Witch, Wiccan, Neo-Pagan, or Hermetic Magician-whatever spiritual path you follow, Spellcaster offers a thoughtful and helpful guide to the essentials of magical principles and practices.
$14.95
Order today and have "Spellcaster" either delivered to your door or pick up at the shop! Morgana will be happy to autograph copies, please make note as to how you would like your book personalized when checking out. NEW- You don't need to open a paypal account to pay with paypal, only an email address!
New! Keep up to date on classes and events.
Sign up for our email list directly!

Click to subscribe to MorganasChamberSchedule
---


Morgana's Chamber
242 West 10th Street
(Between Hudson and Bleecker)
NY, NY 10014
212.243.3415

We are conveniently located in Greenwich Village. Just steps from the M8 bus, the 1 or 9 train, Christopher Street station and the NJ Path Train, Christopher Street station. If you would like further directions, go to our "Directions" page, or call the shop during business hours.

Hours:
Tuesday - Friday, 2 PM - 8 PM
Saturday, 1 PM - 8 PM
Sunday, 1 PM - 6 PM
Closed Mondays
---
Home What's New? About FAQ's Schedule Products Spell Consultations Custom Blends Readings Book Club Links Reiki Healing Spell Stitchers Directions Email
This logo is copyright 1996 Morgana's Chamber, Inc.
This site was designed by Morgana SidheRaven ©2000, ©2004
Banner at top of the page is courtesy of GRSites.
All contents of this website are ©2000 Morgana's Chamber, Inc. No part of this website may be reproduced in any form without the express permission of the author and Morgana's Chamber, Inc. We take care to use graphics that are considered public domain (with the exception of our logo which is © 1996 and may not be used for any purpose without our permission.) Please let us know if we have used a graphic you have created without your permission, we will rectify the problem immediately.
IMPORTANT NOTICE: Morgana's Chamber, Inc. does NOT advocate or recommend any of the sites listed at the top or bottom of the page! If you would like recommendations, please be sure to check our "Links" page, or email Morgana with questions.