Morgana's Chamber Presents...
Janet Farrar and Gavin Bone
Thursday, 22 July 2004 7 pm
Janet Farrar and Gavin Bone at Morgana's Chamber 22 July! This will be their ONLY NYC appearance! Talk begins at 7 pm, Book Signing to follow.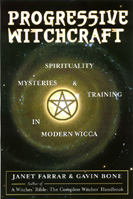 Progressive Witchcraft
In keeping with the subject and launch of their new book, Progressive Witchcraft, Janet and Gavin talk about witchcraft as a progressive spiritual tradition, which is both dynamic and evolutionary. They discuss the potential future of Wicca in the modern world and it's social and spiritual role in the new millennium.
Talk begins at 7 pm, book signing to follow. Please feel free to bring your previously purchased copies of Progressive Witchcraft to be signed. We will have some copies available for purchase, but it is advisable to pre-order a copy, otherwise we cannot guarantee there will be enough copies available. See our pre-order special below.
Progressive Witchcraft Pre-Order Special
10% off all pre-ordered copies of Progressive Witchcraft! You must order and pay in full for your copies by 11 July, and we will have a copy waiting for you at the event. In addition, you will receive DOUBLE book club points! Sorry, no discounts or double points if purchased after 11 July. So don't delay, and take advantage of this special offer today! Can't make the event? You can still take advantage of our special-- just email or call the shop for details. We can even have your book personalized by Janet and Gavin! Remember... autographed books make very special gifts too.

Tickets are $15 in advance, $20 on the day of the event. They are available for purchase at Morgana's Chamber. Cash or money orders only, sorry, no credit cards accepted for ticket sales. Mail orders for tickets are happily accepted, please send money order made out to Morgana's Chamber to: Morgana's Chamber, 242 West 10th Street, NY, NY 10014. Tickets are non-refundable.


New! Keep up to date on classes and events.
Sign up for our email list directly!


Click to subscribe to MorganasChamberSchedule



Morgana's Chamber
242 West 10th Street
(Between Hudson and Bleecker)
NY, NY 10014
212.243.3415

We are conveniently located in Greenwich Village. Just steps from the M8 bus, the 1 or 9 train, Christopher Street station and the NJ Path Train, Christopher Street station. If you would like further directions, please call the shop during business hours.

Hours:
Tuesday - Friday, 2 PM - 8 PM
Saturday, 1 PM - 8 PM
Sunday, 1 PM - 6 PM
Closed Mondays

Home What's New? About Morgana's Chamber FAQ's Schedule Products Spell Consultations Custom Blends Readings Book Club Links Reiki Healing Spell Stitchers Survey Results Directions Email



This logo is copyright 1996 Morgana's Chamber, Inc.

This site was designed by Morgana SidheRaven ©2000
All contents of this website are ©2000 Morgana's Chamber, Inc. No part of this website may be reproduced in any form without the express permission of the author and Morgana's Chamber, Inc. We take care to use graphics that are considered public domain (with the exception of our logo which is © 1996 and may not be used for any purpose without our permission.) Please let us know if we have used a graphic you have created without your permission, we will rectify the problem immediately.
IMPORTANT NOTICE: Morgana's Chamber, Inc. doe NOT advocate or recommend any of the sites listed at the top or bottom of the page! If you would like recommendations, please be sure to check our "Links" page, or email Morgana with questions.